I spent about 3 months in the VP role before I transferred to Concierge. I thought this was a fantastic role and I was sad to leave it, but I knew moving to concierge would set me up for my career goals.
Working at the Transportation and Ticket Center (TTC) at Magic Kingdom was a great experience. It was often very busy, some days so much that we would have all 9 booths open with 6 people in each and there were still long lines at the ticket booths!
My previous knowledge of ticketing helped me in this role, but honestly Disney teaches you everything you need to know to sell the tickets. There are some people that come on the College program and have never been to the parks before and no nothing about tickets and they still do an awesome job!
VP Costume and Baymax
Lots of people have asked me if I felt there was a lot of pressure to meet a quota or goals. There are goals that you need to reach, but I never felt pressured or like it was difficult to meet those goals. If you are friendly and a people person you can meet these goals easily. And if for some reason you do not meet the goal one month they have people to help you review your process and see what you can do to improve and meet the goal next time.
Vacation Planners also get to participate in a few different product knowledge events. I received one free ticket to the Mickey's Not So Scary Halloween Party and Mickey's Very Merry Christmas Party. We also got to sit in on info sessions about Memory Maker, Food and Wine Festival and much more!
On Halloween or Christmas Party nights we got to wear a different themed vest with our costume, and on Halloween Party nights we played "Costume Bingo" were you would mark off if you saw certain costumes. Some nights it was super easy, like the night the leader made every square say "Elsa and Anna" and other nights it was really hard .
Halloween Vest for MNSSHP Nights
As I have mentioned before MK VP does Parade Audience Control or PAC. I disliked this at first as it was so hot during the day. But throughout November and December I picked up many night time PAC shifts. I really enjoyed working at night and seeing the Castle Lighting, Main Street Electrical Parade and Wishes.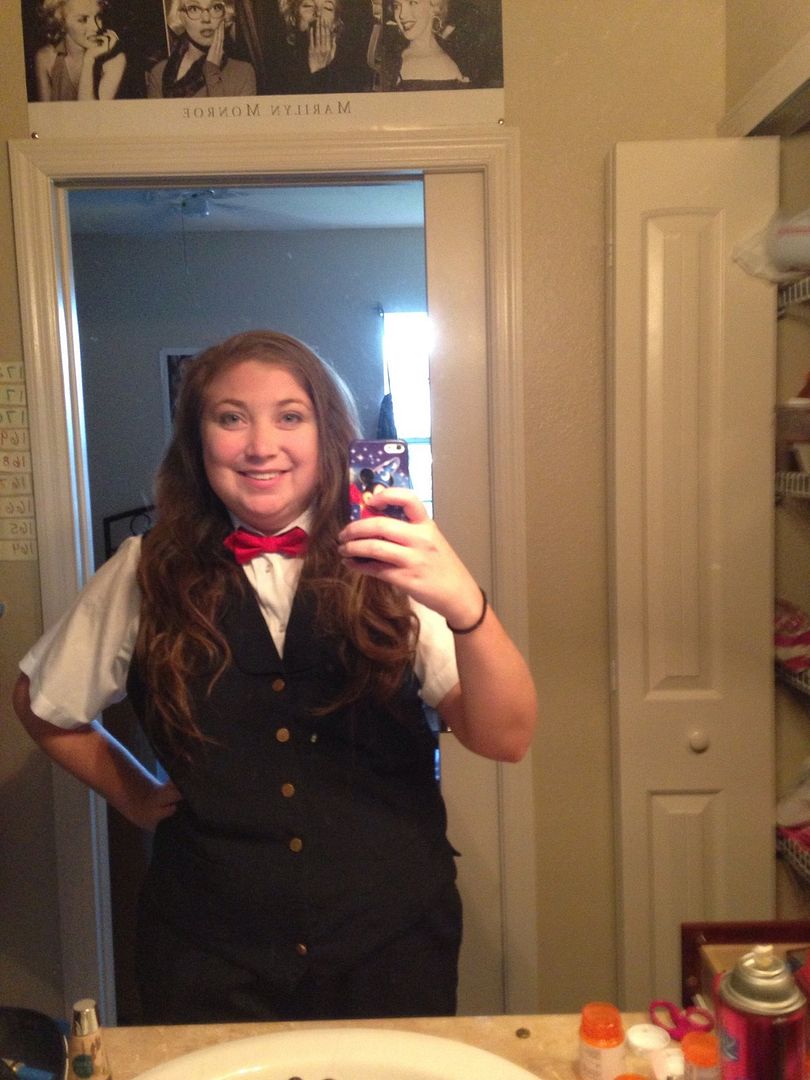 Parade Audience Control Costume