Hey Ya'll!
That's our themed greeting at Disney's Port Orleans Resort! It took a bit of getting used to as I am from a Northern state, but now it just flows naturally!
Back in May I had the opportunity to audition to become an All Jazzed Up facilitator. This position would allow me to teach our resort property orientation to new Cast Members 1-2 times per month. I was selected and went through a training process before finally being officially signed off to facilitate in July!
All Jazzed Up is the property orientation for Port Orleans. Every Cast Member, regardless of their role takes this four hour class before beginning their on the job training. During the class they learn the exciting activities and amenities our resort has to offer and get to take a walking tour of both sides of our resort.
I wanted to audition because I felt this would give me a great opportunity to share my love of the resort with new Cast Members and get them excited for their new role with us! Also I knew that this role would help me both personally and professionally, by working on skills like communication, training and leadership. And I knew it would be FUN!
The audition process required me to get my leaders to sign a leadership support form, saying that they supported me for the role and that I met all the requirements (You needed to meet record card requirements, have great communication skills, worked at the resort for at least 6 months etc). I was also given a portion of the class script, that I would need to present at the audition. Finally there was an interview portion. I was excited and nervous during my audition. There were 3 people there, two were training mangers at Port Orleans and the other was the Operations Training Assistant. I did not know how to feel after my audition, I felt it went well but not sure that I had "nailed it"
But I was selected to become a facilitator! The next step was training, for 4 days we learned the script, and how to manage different situations that might occur during the class. We also went to Disney University to take a 'Facilitator Skills' class which helped us fine tune our skills.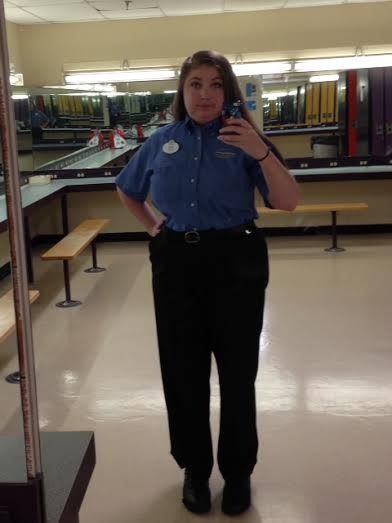 My facilitator costume!
Then came time to actually teach! My first time I taught with Jenna, who also had just completed training with me, while Danny, a seasoned facilitator, sat in the back and watched, jumping in to help if we struggled.
I was nervous but as soon as I got up there and started teaching, it felt completely natural, like this was what I was born to do! I really loved it!
I taught two more times with a seasoned facilitator before my "check out day" During this class the Operations Training Assistant sat in on the class and offered me feedback on my performance. She was very happy with how well I was doing, and offered a few areas of opportunity for me. But I had passed and was a full fledged facilitator!
I really enjoy facilitating and I feel that this has opened the door for other training related opportunities for me. I have always been interested in Cast Development and what better way then to get them started and set up for success at our resort!