At work they give out these cards called "Great Service Fanatic Cards" You get one for basically just doing your job, or modeling one of the Disney Service Basics. This is what it looks like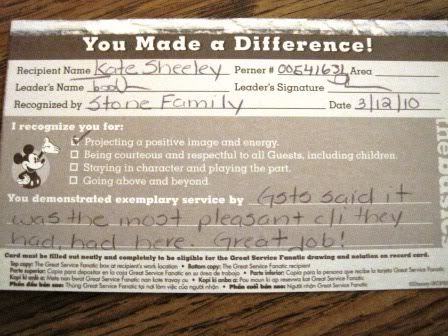 There are two copies. One you get to keep and the other you put in a box at your location. Then I guess the do like a drawing so you can win a prize.
So there I was just doing my job, checking people in when all the sudden my manager came over and handed me the card and told me that one of the guests I had checked in had told her that it was one of the best check ins they've ever had! I was so excited to finally get one of these because some of my roommates had already gotten one.
I've been really busy, but I didn't really have much to post about. Last week was spring break and now this next week is Easter so it is getting pretty busy. Plus I went home for the weekend last week because my boyfriend was leaving for Air Force BMT. I miss not being able to talk to him, but it helps being here on the CP because I can stay busy.