So at Pop Century we sometimes give Pop Buckets to guests who need a little extra "Magic". Sometimes it is for a special occasion like once we made one for a couple who were getting married the next day. Sometimes guests come to check in and they have just had really bad luck, they lost their luggage, the car broke down, etc and their vacation just isn't getting off on the right foot.
So when you want to do a Pop Bucket for a guest you just need to ask a manager if you can get one. So yesterday I was checking in a guest who were part of magical gathering. She wanted to check in all 3 rooms even though the other 2 parties weren't there. She was sort of mad when I explained that I could not check in the other rooms, even though she had paid for them.
As we went through the check in process she asked about services for guests with disabilites. She explained that her mother, who was traveling with them is terminal with cancer. It was her last wish to come to Disney with her family. They had to rent an RV to bring her to WDW because she couldn't fly. I gave them some guide maps for guests with disabilites and explained how guest relations at the parks would be able to assist further. After they left I went in the back and asked if I could make Pop Buckets for the 3 rooms.
Here they are!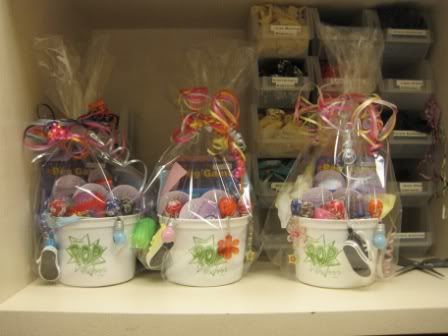 They have a bunch of different things you can put in them, whatever you want but it usually depends if the family has girls or boys. We have hot wheels, pez dispensers, ring pops, crayons, key chains, playing cards. I also added buttons to each that say "Honorary Citizen of Walt Disney World"
I also sent a character card, that was personally signed by Mickey and Minnie, to the grandmother, that said "Have a magical stay" The runner delivered them to the rooms, so the when the guests returned to the room, they had a surprise waiting for them.
It's really exciting when you get to do something like this, even though the guests will never know it was me who did this for them, it feels good to know I made their vacation a little more magical.