On Saturday I had my Merchantainment class. They taught us how to use the registers and talked about the different forms of payment, discounts etc. It was kind of boring since I already have retail experience. The hardest part is counting back the change. They want you to count up from the total, so if the total is $8.90 and they give you a $10 you start with 10 cents and then you are at $1, then you add another $1 so it is equal to 10. I think it is stupid that we can't just be like $1.10 is your change.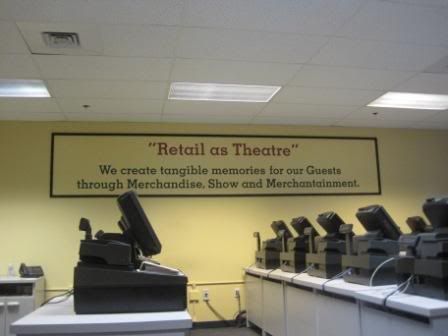 Sunday was when I had tier 2 training at the Studios, we did a lot of things in training mode and then took some customers, I also did some stocking and learned how to do package pickup, resort shipping, and damages.
Today Monday, I had my first class for Human Resource Management. I wanted to take a different course but it was all filled, so I have to wait until the summer session starts. After my class I went to Downtown Disney and to Target. Tomorrow I don't have to work so I don't know what I will do.