I forgot to post a picture of the pin we got for completing Merchantainment.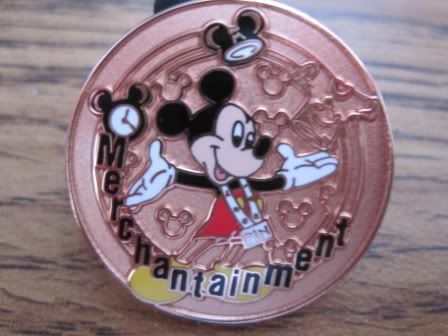 I have been having a lot of trouble with the medical accommodations I need for work. I had submitted a packet that my doctor had filled out explaining what restrictions I needed. However my managers did not know anything about it. When I finally got a copy of the restrictions and talked to the manager I tried to explain that I don't need the accommodations all the time, but she said they need to follow exactly what is on the form. The one thing they were having an issue with is No walking/standing more than 40 mins per hour. Now I tried to explain that some days are better than others and that 40 mins is a worst case scenario, but again they need to follow what is on the paper. She suggested a 15 min break after 2 hours and I said that would be fine, but I had to talk to my Dr. and get him to send a revision.
So I haven't been to work since Sunday because they called me and told me they needed time to get everything straightened out. Okay....So then they called me and told me they were taking me off the schedule until the new restrictions were approved. They said that housing wouldn't take rent out of my paycheck for the week. But they already don't take it out the first week so by the time I get paid again I will owe 3 weeks!!