Today was my "Pop Into the Island" tour at Pop Century. I had to go to the cast service building which is shared between Pop Century and Caribbean Beach. There were 7 people in the tour group but only 3 were going to Pop. First they took our picture and had us fill out a little information card. (Later they hung up this picture and info card on a welcome board in our location.)So we watched a power point about each of the resorts and then we headed out on a tour of our resort.
The trainer took me behind the front desk and showed me where everything was. I even got to meet one of the managers on duty. He seemed very nice and was up to date on everything that had happened with me and my being "miscast". I think I will really like working front desk a lot more than merchandise anyway. We continued the tour around the resort and since one of the people was for food and beverage we went back in the kitchens too. After the tour we went to lunch, and then did this "safety in motion" class. It was really really long and boring. Basically for an hour they talked about how to position yourself while lifting heavy items. I was very tired at this point and almost falling asleep.
When that was over we went to costuming. Now costuming at this building is not open on Tuesdays or Wednesdays, but we were told to ring the doorbell and tell them we are new cast members and need to get our costumes. So we ring the doorbell, and the costuming ladies let us in. But they don't know what we need, so they have to look it up. Finally I find what I need but the shirt doesn't fit right, well that is because I had the wrong shirt. I find the right shirt and get my costume. Here is what it looks like (not on me obviously, I borrowed these images from Disney)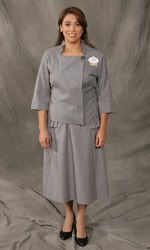 I actually like this costume more than the other one I had at the Studios. First off the shirt does not need to be tucked in, and it doesn't button up the front, it sort of zippers, but therefore does not bunch up and gap. The skirt, is actually a skirt, not the weird shorts, and i purposely picked a longer one so I can try and get away with only wearing knee-highs instead of full stockings. There is a sort of ugly maroon sweater we can wear, but after a few weeks I won't need it anyway.
After the costuming we had to do some more ELearning. I had already done most of mine though because all the general ones I did while training for Merchandise. I was scheduled to stay until 5:30 But I was finished at 3:30. They gave us this cheesy certificate too.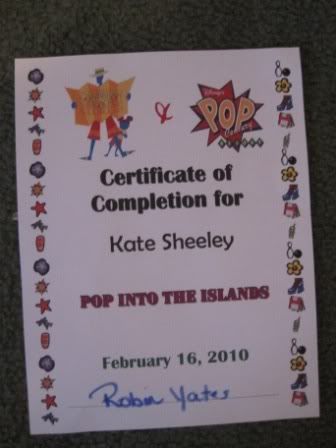 The next few days will be First Impressions class at the Disney University, and then on the job training all next week. I was shocked when I looked at my schedule for Training! Everyday starts at 5:45 AM! I hope it is only because I am training, since it seems like everyone else on the college program works the Afternoon/Night shift.